Videos
T Smallz - Snitch
PARTAGES | J'AIMES |
Ebrahim Suso aka Trobul Smallz (T Smallz) no doubt is one of The Gambia's astonishing, consistent contemporary cum hip-hop stars in recent years. He was born on the 9th of August 1986 into the legendary griot family also known as 'Jalos' in Mandinka.
Katato as fondly called is the grandson of the late Alieu Suso, a renowned Kora maker and player in The Gambia and the sub-region in his generation.
Credited as a game-changing artist especially in the hip-hop domain, T Smallz grew up in the coastal town of Bakau. Due to his creative style, he has managed to horn his skills as a phenomenal instrumentalist cum rapper.
Formerly of the Zion Yard Music Family of Bakoteh (BK City), T Smallz is now under his own management called- The KATATO Entertainment.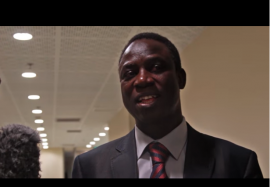 Confessions
il y a 13 heures